English lessons are a plus for everyone
There can be a multitude of reasons why you want to learn English or improve your language skills. It could be because of your work or because you want to study abroad. Or maybe you just want to communicate better in English.
At IBL Sprogservice, we believe that being able to speak and understand English is exclusively to your advantage. In fact, it has never been more important than today to be able to communicate in English. This applies to both oral and written communication. And why is that?
As the world has become increasingly globalised, you will meet people from other countries with different mother tongues. The language most people can speak is English. Therefore, everyone can benefit from learning English. The English language is generally an important tool when it comes to communicating with people of other mother tongues.
Then learn English at IBL Sprogservice with the help of an effective and targeted English course. Whatever your needs, you can be sure that we can help you in the best possible way. We focus especially on making use of the English language in practice. This means that you will already feel a difference from your first lesson.
Get the most out of our courses in English
At IBL Sprogservice, it is important to us that all our students get the maximum benefit from their lessons. As well as focusing on secure and enjoyable teaching, we also emphasise key words such as quality and learning.
With our English classes we work from the beginning with a practical application of the language. This means that you will quickly get to use the language in practice. We believe this clearly makes it easier to learn the language as well as getting the most out of the lessons.
In addition, we make sure that our teaching is based on the areas that you want to improve and work on. That's why we adapt and target our English courses according to your wishes and needs.
For example, if you want to focus on professional and occupation-specific language, you can. You can bring your own material in a specific field or industry that we can use in teaching. If you do this, it is important that we make you aware that our trainers are bound by confidentiality. This means that your material will be treated in a confidential manner.
We give you a free taste of our course in English
Today you will find a wide variety of English courses online and in person. It also means you can be overwhelmed by the choices. Which English course should you choose and which course is best for you? It can be hard to decipher just by reading about the course on a website.
This is why we have decided to give everyone a free taste of our courses in English. But what does such a free taster entail? This means you can have a no-obligation online conversation with one of our trainers.
So you can talk to a teacher about our English course before you decide to enrol. During the talk, you can learn more about how our course works, how we organise the teaching and much more. We'll also have the chance to hear more about where you are when it comes to the English language. It helps us plan a course for you.
Years of experience teaching in English
At IBL Sprogservice we have many years of experience in teaching English. Over the years, we have helped both business and private individuals improve their English language skills.
We offer English courses in all sectors and always tailor a course to the individual. That way you are guaranteed to get the most optimal English tuition for you. We have achieved many successes and have taught more than 30,000 students. And we are extremely proud of that.
In addition, we work with the "European Framework of Reference for Language Learning levels ." The reference framework is divided into 6 (7) levels. These levels are: (beginner), A1, A2 – B1, B2 – C1 and C2.
English language course with focus on English grammar
An English language course can be many things. It all depends on what you need and what you want to be better at. But even if you want to focus on getting better at communicating and speaking in English, it's essential that you also learn more about grammar.
The oral and written parts go hand in hand. So you can end up being an expert in English if you master both. We think learning to communicate in English is great fun. Although English is not the most difficult language to learn, there are many words and some grammatical rules that you need to know.
We'll make sure you're well equipped and help you become an expert in English grammar. In our teaching we focus on:
Word order
Modal verbs (also known as auxiliary verbs)
Prepositions (also known as relative clauses)
Adverbs
Subject-verb agreement (also known as root-verb agreement)
Our English teachers help students master English grammar every day. Of course, they will also be happy to help you if you sign up for one of our English courses.
Take an English course with group or individual tuition
Do you prefer one-to-one lessons with no one else around? Or are you much better in teaching situations where there are other students than you? Whatever your preference, we at IBL Language Services can organise a course for you.
We offer English courses both individual or group tuition. There are advantages and disadvantages to both types of teaching, so we recommend that you choose the method that is best for you and your learning. If you want to know more about the two forms of teaching, click here.
Contact us at IBL Sprogservice and find out more about our English courses
Not a day goes by that we at IBL Sprogservice don't teach students to communicate in English. We teach both professionals and individuals, so there is room for everyone. If you have any questions or would like to know more about our English courses, please contact us on tel. 75 72 43 33. Alternatively, you can write an email to info@iblsprog.dk. We respond to all enquiries within a maximum of 12 hours.
Why go to English classes?
Language is a means of communicating with other people. For us, the most important thing is that you reach your goal. Maybe you have a new job that requires more English skills?
Should I choose group or individual lessons?
One-to-one tuition is the most effective and flexible form of teaching, with group tuition particularly suitable for companies with several employees who need to attend an English course.
How much does English tuition cost?
Starting an English course can be a big decision. Therefore, before you decide, we offer a Free Trail, which is a no-obligation online conversation with a trainer.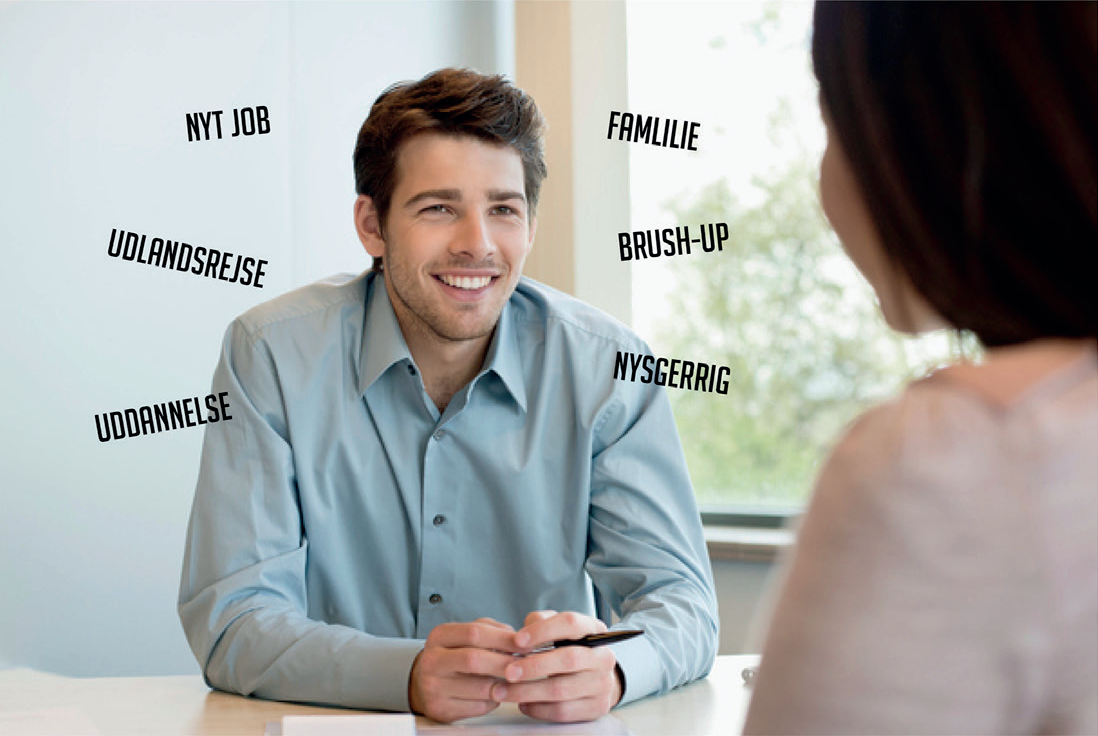 DO YOU SPEAK ENGLISH?
WE TARGET AND ADAPT THE COURSE TO YOUR LEVEL AND NEEDS. BRUSH-UP OR CURIOUS ABOUT LEARNING A WHOLE NEW LANGUAGE?