FOREIGN LANGUAGE IS NO LONGER FOREIGN TODAY
Learning another language and expanding your language skills is beneficial in many contexts. As a result of globalisation, we are increasingly confronted with foreign words and languages every day.
That's why being able to speak several languages can be a great advantage, making it easier to communicate with more people and to decode foreign words quickly. It also minimises the risk of misunderstanding and misinterpretation when communicating with someone who does not share the same mother tongue.
IBL Sprogservice can help you with this. In our German lessons, we focus on teaching you how to use the language in practice and building confidence in using the language. Taking an online German course with us should be both fun and educational.
We are highly motivated to organise your German lessons according to your learning preferences, so that you can feel yourself progressing already after the first lesson.
By taking an online German course at IBL Sprogservice, you'll be well equipped to handle German – whatever language contexts you face. And that can be a big advantage for you if you're planning a trip to Germany or even thinking of moving permanently.
If you choose to become a student with us, we guarantee to give you a solid basis for being able to behave in German – even if you only want to improve your German skills out of pure interest.
PROFESSIONAL AND SECTOR-SPECIFIC LANGUAGE
With an online German course at IBL Sprogservice, you are in safe hands in terms of quality, learning and learning outcomes.
Our teaching in German ensures that you work on the areas you want to improve. We target and adapt online German courses according to industry-specific language use. As a student, you therefore have the opportunity to include your own subject-specific material, which will be included in the online German lessons.
We have more than 27 years of experience in teaching professionals in all sectors and we tailor each course to ensure that you, the student, get the best possible learning experience.
Teachers at IBL Sprogservice are bound by professional confidentiality, so all material will be treated confidentially.
GERMAN LANGUAGE SKILLS CAN HELP YOU AT WORK
In work-related contexts, it can also be a great advantage to be able to master the German language with a high degree of confidence.
Several companies work closely with our neighbouring country Germany, so taking a German language course can be a good investment for professional purposes.
In this way, you will get good and concrete tools to handle, for example, customer contact or partnerships in German. This can help to build a high level of trust between the parties involved, while minimising linguistic misunderstandings and misinterpretations.
If you are going on a business or other work trip abroad,, it can also be an advantage to have German language skills.
Taking on a new language is never a waste of effort. On the contrary, it can prove beneficial in many different contexts – both in private and professional situations.
TAILOR-MADE COURSES FOR ALL LEVELS OF ONLINE GERMAN TEACHING
At IBL Sprogservice we have great respect for the individual levels of our students. That's why we offer tailor-made courses and have already had more than 30,000 students under our professional wing.
Not sure whether to invest in an online German course? Before you make your final decision, you have the option of a Free Trail. It involves a no-obligation conversation with one of our skilled trainers, where together you can assess your language skills.
This will also give you an insight into how online learning works and enable us to tailor a unique course for you.
We organise our teaching according to the European Framework of Reference for Languages, levels. This means that we work from seven levels; beginner, A1, A2 – B1, B2 – C1, C2.
At IBL Sprogservice we offer both online one-to-one, which is the most effective form of teaching, and online group teaching, which is ideal for companies. We recommend a maximum of four students per course to get the most out of the teaching.
CONTACT US TODAY TO LEARN MORE ABOUT ONLINE GERMAN LESSONS
At IBL Sprogservice, we work daily to improve the language challenges faced by companies throughout country through language courses. We work very seriously and professionally to make learning easier for our students. We offer the most effective teaching methods, whether you are a private or corporate client.
Contact our language consultants about an online German course today on 7572 4333 or INFO@IBLSPROG.DK and find out how we can help you get to grips with the German challenges.
We respond to all enquiries within MAX 12 hours.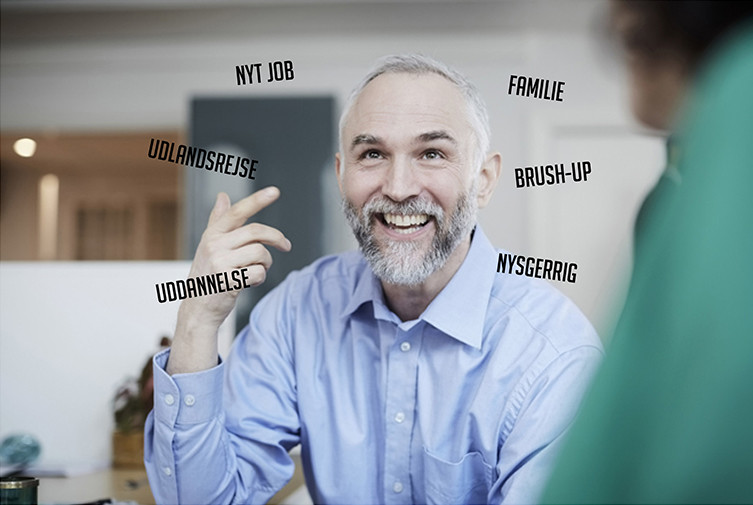 DO YOU SPEAK GERMAN?
WE TARGET AND ADAPT THE ONLINE COURSE TO YOUR LEVEL AND NEEDS.
BRUSH-UP OR CURIOUS ABOUT LEARNING A WHOLE NEW LANGUAGE?